Description
Since 2012 Victoria -2- has been the proud stockist of Eco uniforms, which are responsibly sourced using recycled plastic bottles. Every year we continue to be surprised by our growing environmental impact report, which thanks to our loyal and responsible customers, seems to be expanding annually.
Every Eco garment purchased helps you make a positive difference to the environment which lets us put our planet first, without ever sacrificing on quality, durability or comfort.
Look out for this symbol on all Eco-clothing for a more informed choice: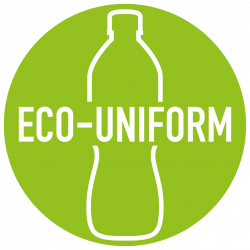 What makes it 'Eco'?
Plastic bottles are used instead of crude oil in the production process to create polyester for all Eco-garments.
The environmental benefits
The total process of producing polyester in this way uses less energy and reduces CO2 emissions.

Reduction of landfill
Cost, durability, washing & care
Eco-uniform should cost no more than an equivalent quality non-eco garment.

Every Eco-garment is as durable and high in quality as the non-eco garments.

Easy to care for and as comfortable as non-eco garments.
Eco-uniform styles:
---